What we've been up to during the Coronavirus outbreak to support local businesses
Over the past few weeks, many of our existing clients have understandably put recruitment on hold whilst prioritising the unprecedented challenges faced by their businesses during the coronavirus outbreak.
Throughout this time, we've continued to work in partnership with you to provide the latest advice and guidance, handle active recruitment campaigns, source temporary workers or contractors for sickness cover or a surge in demand to help you stay operational and support your customers and colleagues.
We're also proud to say that we've played an essential role in supporting local businesses in our community during the current crisis by delivering the Stockport Jobs Match service.
Supporting our community during Covid-19
Within hours of the Government's initial warning of the imminent and devasting effect that Covid-19 was about to inflict across the UK, we volunteered to join an Economic Resilience Task Force set up by Stockport Council.
The taskforce was made up of business men and women from across the Stockport community to pull together a plan of resistance and support and to quickly respond to deliver whatever solutions were required to meet the demands and assist with continuity.
Due to the coronavirus outbreak, some businesses in the borough of Stockport had seen their order books slashed, while others had seen a huge surge in demand for their goods and services leaving them with an immediate shortage of staff.
In response to these challenges, we proposed a solution in the form of a job matching website to help support employers with vacancies while at the same time helping those looking for work to find employment. Our rapid and collaborative response to the disruption caused by Covid-19 meant our jobs matching website went from concept to reality in just three days.
Stockport Jobs Match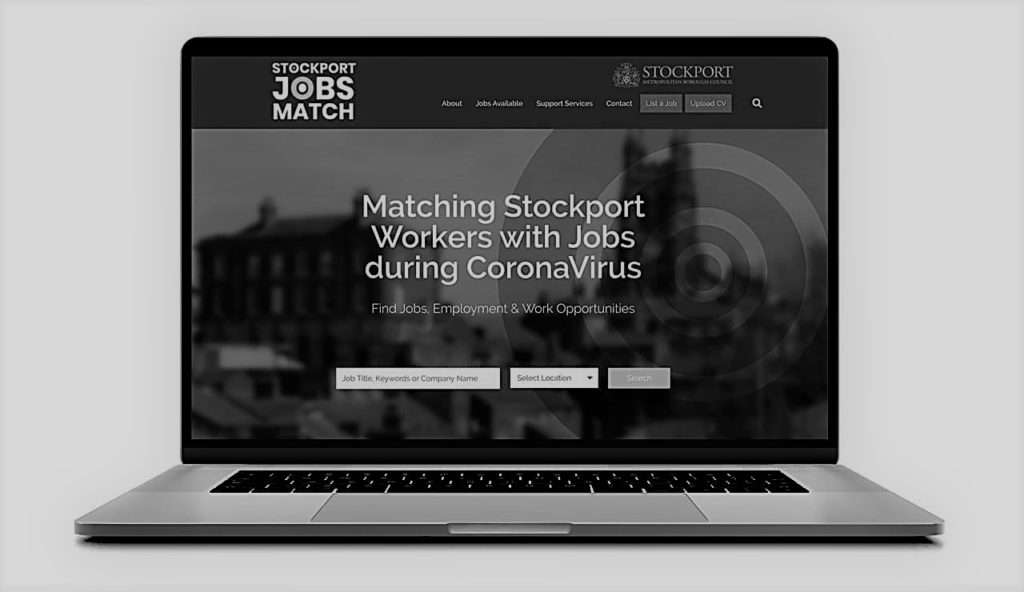 Created in partnership with Stockport Council with the help of local design agency Instilled, the new portal helps to connect employers who have urgent temporary or permanent vacancies with applicants who are immediately available and in need of employment.
The website features job opportunities from all sectors who are experiencing a surge in demand – including supermarkets who have vacancies for positions including sales staff, shelf stackers, warehouse operatives and delivery drivers. There is also a call for temporary staff to cover priority functions due to sickness including in the areas of healthcare, social care and education.
Following its launch on March 26, the website has received more than 100 new visitors each day. It is also rapidly amassing a strong social media following across Twitter, LinkedIn and Facebook.
In the first week, more than 60 vacancies have been uploaded from employers across Stockport who are recruiting for temporary, permanent and casual workers in warehouse, driving, retail, cleaning, food production, health and social care sectors.
Stockport Jobs Match has received praise from outside agencies, with the New Local Government Network highlighting it as an 'innovative project' to help the town's jobseekers.
Cllr David Meller, Cabinet Member for Economy and Regeneration, said it was clear that Stockport Jobs Match and the Economic Resilience Task Force, was already helping to boost the local economy.
"It's fantastic to see that in these uncertain times, the council is pulling together with our local businesses and helping our residents," he said. "Stockport Jobs Match is already proving to be an incredibly useful tool in ensuring those who have been left out of work, through no fault of their own, can return to employment as quickly as possible.
"A huge amount of work, in what was a relatively short period of time, was carried out by those behind the scenes to ensure this tool was brought to the market as quickly as possible."
Visit Stockport Jobs Match for more information. You can also follow on social media at Facebook, Twitter and LinkedIn.